February 10th, 2014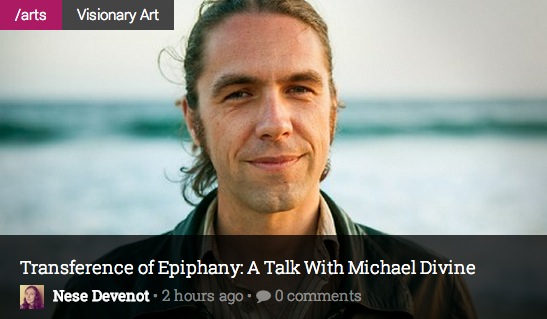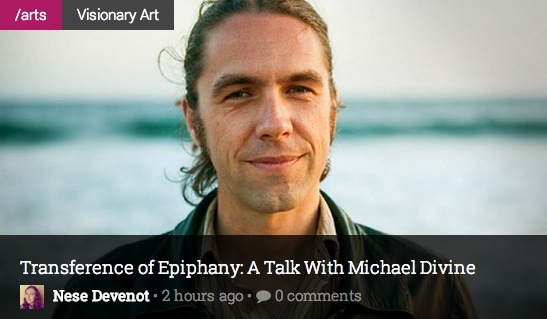 Nese Devenot interviewed me recently for www.RealitySandwich.com.
From her Introduction…

Among the newer iterations of visionary artists – a cohort that includes Amanda Sage, Luke Brown, Adam Scott Miller, and Andrew "Android" Jones – Michael Divine has carved out a niche all his own. His evolving style is unmistakeable even from a distance: sweeping vistas, vaulting archways, and numinous geometries establish epic scales of wonder and discovery, while stylized figures express an emotional intensity that seems incongruous with the simplicity of their forms. Energetic tendrils and cloudy billows are pierced by sharp lines and distinctive edges — contrasts of form that mirror the juxtaposition of colors, which often arrive in a mix of pastels: coral and turquoise, sunset golds and royal violets. The total compositions are encounters with – not just depictions of – divine insights and profound meditation. Viewers enter the fold of a capacious awareness that strikes viscerally, at the gut level, resulting in a transference of epiphany.
Read the full interview here: http://realitysandwich.com/216755/transference-epiphany-talk-michael-divine/
March 1st, 2013
I recently did an interview with Nomos Journal – an online journal "that publishes a revolving array of material engaging the intersection between contemporary expressions of religion and popular culture.". We talked about art, history, painting, mysticism, amongst other things… it was great. Give it a read! (*thanks, seth!)
http://nomosjournal.org/2013/03/through-the-glass-onion/
"Would you say this in-between characterization – this dance – sort of parallels the studio-live dynamic as well?"
"Sure. The live setting helps to stretch me as well, and I certainly love to leave my hermit cave, so to speak, and go out into the world and play. So it's good to get out, to paint live and let my brushes and paint flow in a much looser manner because then I'm so happy to be able to give myself the time and space that the much more careful paintings require. There's a story (and I think it is in many cultures, but for this I'll paraphrase Buddhism) where a new monk wanted to meditate, and he worked really hard at it and held himself very, very still. He fasted and prayed all the time, non-stop. The monk had been a musician, and he went to his teacher and asked why it was so hard. His teacher asked him about his stringed instrument: if the strings were too tight or too loose, you couldn't get the right note and it could not be played. So it is the same with the practice: too loose or too tight is no good. We must find the right path between the two. As an artist, too much studio time and you lose the looseness, but too many parties and live painting, and you lose the focus. It's the dance between the two where there is joy."
September 4th, 2012
A website featuring all sorts of arts and creative types has an interview with me up – solpurpose.com. Ehren, the interviewer, asks some insightful questions and I try to give my best insightful answers. So if you'd like to learn a bit more about my work and what I do, head on over there and check it out.
Tags: Art, art history, interview, Painting, painting process, solpurpose