»
»
New Poster for Conscious Alliance and STS9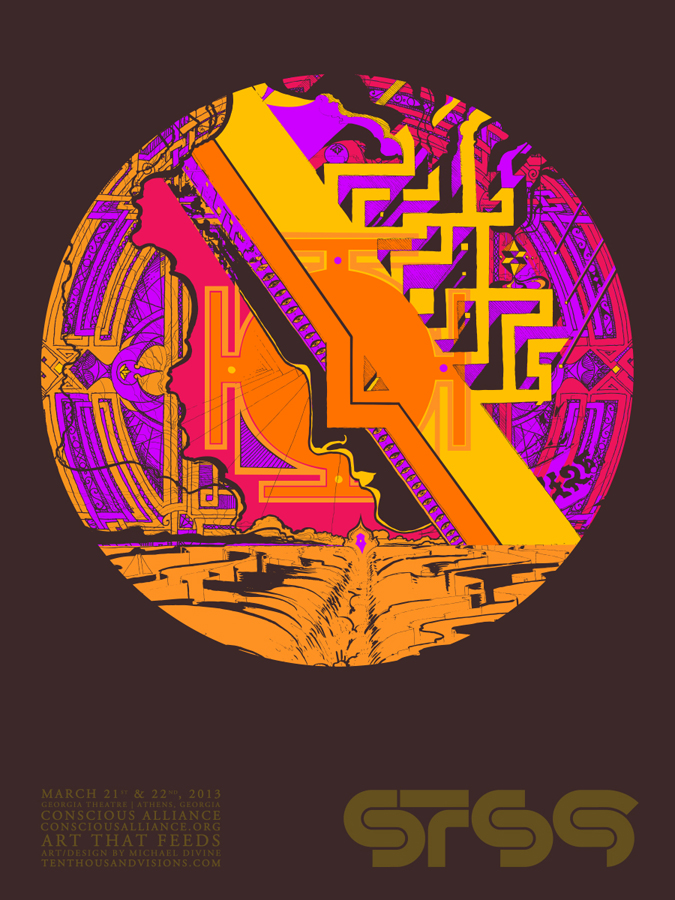 I designed this poster which is available from Conscious Alliance and Sound Tribe Sector Nine this weekend (March 21/22) in Atlanta, GA. The 18″ x 24″ poster is silkscreened and the colors look great! I'm so happy to work with Conscious Alliance again. I think they do really really great work and I'm always happy to support them when I can.
Who/What is Conscious Alliance?
Conscious Allaince is a "non-profit organization committed to hunger relief and youth empowerment." They bring in money and food donations through posters that they sell through their "Art that Feeds" program at music events. It's a great model for a really powerful non-profit that helps to provide food to those who are in need.
It makes me really happy to be able to give of myself and give my work to causes like this that do such good work in helping others. It doesn't stop there, though. The printer as well donates HIS time and energy and materials. The band lets them use their name for free (making it a commemorative event kind of thing) and allows them to sell the poster inside the venue – ALL FOR FREE! All donated through the various individuals involved because we all love what CA does!
Here's a bit of what they did last year:
• Increase the value of services delivered directly in the field by 25% to a total of $603,800.
• Hosted 84 food drives nationwide
• Provided over 130,000 meals to those in need through food drives and partnerships with natural food companies
• Developed a series of artist workshops for at-risk youth designed to inspire creativity and teamwork
More here: http://www.consciousalliance.org/2013/03/a-letter-from-the-executive-director/
If you aren't aware of the hunger problem that plagues this nation, this website is a good place to become more informed: http://feedingamerica.org/
More about Conscious Alliance can be found here:
http://consciousalliance.org/